SECONDΟ at The Research Methodology Course on CSDP
Aristeidis Farao, as a formed and future secondee of the SECONDO project participated in the Research Methodology Course on CSDP – EU as a Security and Defence Actor that was held in Piraeus between 14 and 16 March 2022 with active participants and excellent results. Aristeidis Farao during the second and third day of the course participated in the workshop entitled Cyber and Digital Security and Defence – Digital Diplomacy presenting the SECONDO project and his contribution to the project's progress. Moreover, he discussed with the participants the challenges that the SECONDO project has to defend and gap, as well as the difficulties and challenges that he met during his research.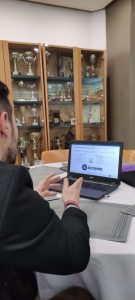 Finally, during the last day, he was awarded for his participation in the course by Mr. Dirk Dubois, Director of the ESDC, and Prof. Foteini Asderaki, Chair of the ESDC European Doctoral School on CSDP.